Moaña to Leixões
We had picked up our newly ordered Atlas for the detailed maps south of Vigo while we were in Moaña. Therefore, we were now ready to plan our onward journey. From Ria de Vigo, Spain we were finally heading for Portugal.
Planning
On this leg, we would be heading to Portugal where our crewmember, Gosia would leave us. There was much less opportunity to anchor along this part of the coast and so we'd have to look at staying in marinas.
We discounted Viana do Castelo because the reviews on Navily didn't recommend anchoring and the marina was reported to be very expensive and not so pleasant. This was a shame because I had read that Viana do Castelo is a beautiful northern Portuguese town replete with an iconic church, a medieval fortress with a walled city and stunning natural scenery, including a National park.
Weighing up our choices
There was a boat festival in Porto at the time, so of course, the Douro Marina was booked out. We were looking forward to staying in the marina on the famous Douro River but it was not to be! An alternative was the marina in Leixões. The reviews of Marina Leixões were not terribly complimentary and some had said it was in bad repair, but it was our only choice. Hoping it had improved since those reviews, we booked a berth.
Porto was 70 nm, a long day sail and stopping in Leixões would shorten our journey by 10 nautical miles. It doesn't sound like much, but it shaves about 2 hours off our travel time. Leixões was reported to have good public transport options to get us into Porto, so we were close enough.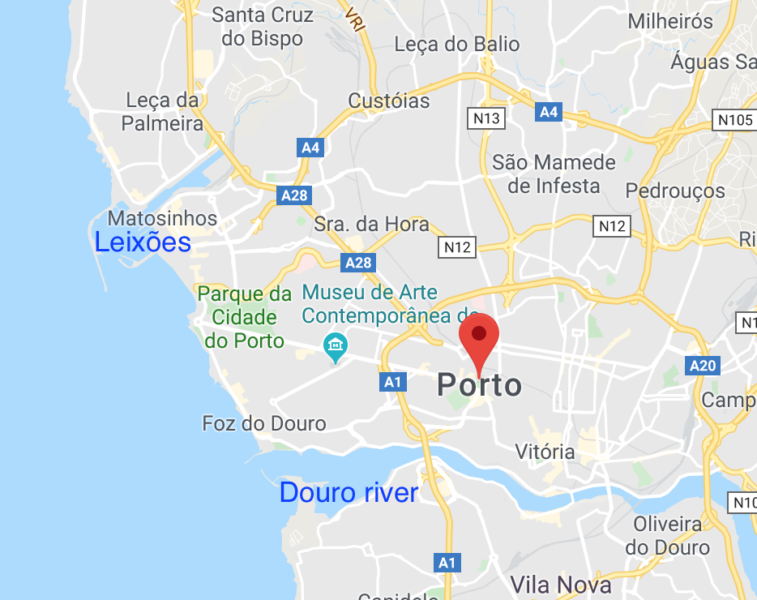 The journey
We set off from Moaña at 8.30 am with clear skies, cool weather, heavy dew and the Ria waves a little choppy. True wind speed was 8.5 knots, coming from the SSE (160 degrees).
I was keen to finally test our mainsail, now that we had spent a fortune having the 14 ml halyard replaced with the smaller 10ml Dyneema line at Moaña. The winds were not strong enough to use our regular sails, and we were not yet confident to use our Gennaker, nor was our crew member. So we motored all day on one engine, alternating periodically. During a five hour period, we managed 5.9- 6.8 knots with assistance from the current, so we made much better timing than we had expected.
Each time we passed a River entrance (Rio Mino, Viano do Castello's Rio Limia) or a Cape (Silleiro), the seas became a little heavier briefly, but my seasickness was clearly under control.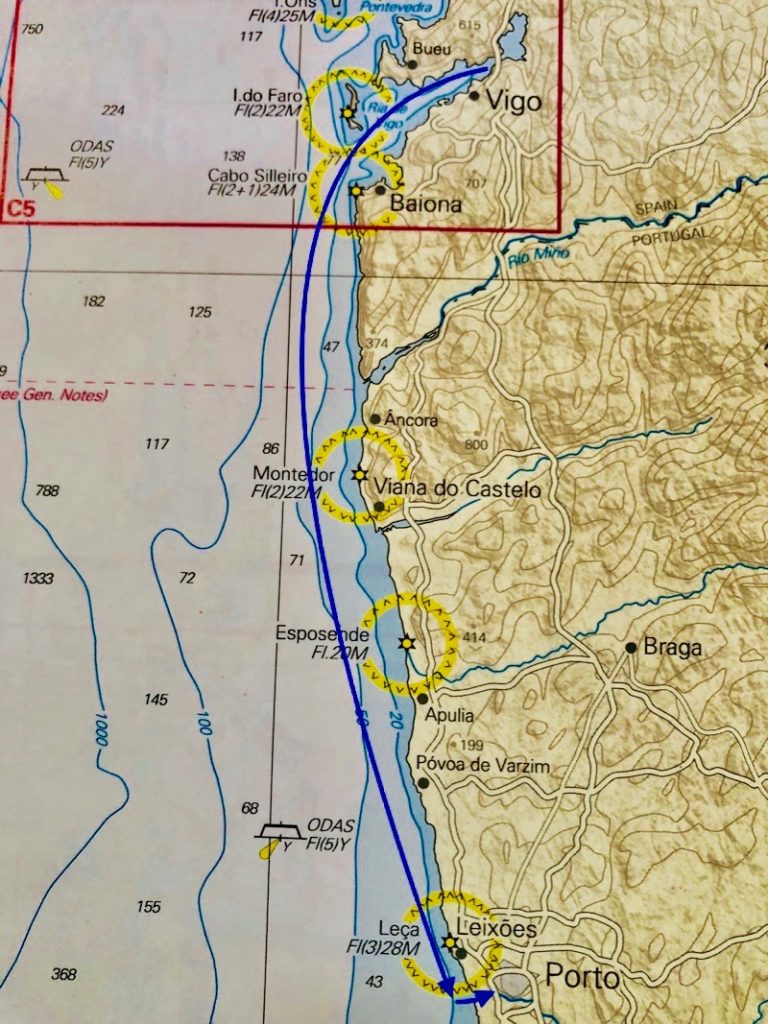 Dolphins
We always feel happy when dolphins accompany us as we glide along. Today was no exception. I tried really hard to take a photo but had no luck. Jill managed to film them in the next blog video (No Portuguese Tarts).
Fishing Pots
Fishing pots are a constant hazard and with the wind picking upward of 14 – 18 knots nearing the final 3 hours of our journey. We had to be very vigilant to avoid running over them. In the last 90 minutes, the winds dropped to 2 knots and so did our speed.
Marina Porto Atlântico – Leixões
We finally berthed the boat as the sun was going down. The journey had taken 14 hours and the wind picked up again as we berthed. Additionally, there was a forceful current and the wind was pushing us away from the pontoon. It was a very tense time docking. A lovely fellow saw our predicament and came over to help. Finally, we tied the boat up and breathed a sigh of relief.
Leixões is in the industrial area of Porto and the main town was a bus, tram and train ride away.
The pontoons are in need of renovations. Tie-down straps are holding the pontoons together in a number of places. Boards are broken and cracking, although there is some evidence that some repairs are taking place.
We did find that the marina was exposed to swells and the boat was jostled quite a bit. It is on the far side of a working port, with pilot boats constantly coming and going and commercial boats moving across the port. Quite loud at times due to shipping containers noisily being banged as they were moved around, we were fortunate to not notice the oil/gas smells, nor the rubbish that others have reported about staying at this marina.
Moorish influence
The stunning use of tiles in the architecture is very noticeable in Portugal.
I thought the tiles were uniquely Portuguese. Even the Portuguese trade on this, as seen below with the fridge magnets for tourist purchase. But then I kept on seeing the repeated use of tile decorations as we traveled down the Atlantic coast, past the Algarve, back into Spain at Cadiz and even in Gibraltar. Finally, after arriving in Morocco, tiles also featured in all the entrances to many buildings.
I discovered that the Moorish influence in Europe had come from the native Maghrebine Berbers of Morocco in the eighth century when they invaded the Iberian peninsula. Their influence lasted while they ruled – for over seven centuries. So despite the tiles not being uniquely Portuguese, they still attracted me to take endless photographs of them. A few appear below.
Wonderful Porto
We traveled by public transport into Porto. It was a long walk to the metro tram station in the heat. From there, we traveled to Trindale station where we needed to change trains to reach the main centre of Porto at Sao Bento. It was a glorious sunny day and we really enjoyed exploring the central area. There was plenty of pedestrian access winding around the hillsides steeped with many examples of Baroque, Roccoco, Neoclassical and Art Nouveau buildings.
Porto Cathedral upper left

Rue de Sá Bandeira

City Hall
We were given a pamphlet advertising a number of free entry to museums that normally have admission fees and so we wandered around until we found one that interested us. One we chose was the Port Museum because we thought we might get to sample ports. It was about the history of making port wine, not wine tasting. We found it quite interesting to learn about the history of the fortified wine that gets its name from this town.
Azjuleos tiles
One cannot miss all the beautiful blue tiles on the sides of the buildings. Azjuleos tiles are named from the arabic (az-zulayj) for 'polished stone' and are seen all over Porto. San Antonio dos congregados Church, next to Sao Bento Railway station features beautiful soft blue tiles. The station itself was breathtaking with its beautiful expanse of darker blue-tiled murals.
railway hall Mural 1

railway hall Mural 2

San Antonio Church facade detail

San Antonio Church facade

Santonio Church main photo, (Igreja de Santo Ildefonso part far right)
Igreja dos Clérigos
Igreja dos Clérigos is a late Baroque church, that lacks the tiles typical of many earlier Porto Baroque churches. Instead, there is great detail in the exterior facade using Rococco style based on the complexity of detail. It boasts an imposing clock tower. A tower, Dos Clérigos rises behind the Church, with the House of the Brotherhood of the Clerics adjoining the church and the tower. The Brotherhood building was renovated in 2014 and is now open to the public as a museum of the clerics.
Igreja dos Clérigos

Clérigos tower
Igreja de Nossa Senhora de Vitoria
We were surprised to pass a Catholic church ( Igreja de Nossa Senhora de Vitoria) that had been built on land previously owned by the Jewry prior to Porto being settled. It was built in the 16th century and was well and truly in the hands of the Portuguese Christians when renovated after a fire decimated the building in the 18th century. Although it was given a Baroque 'makeover', it seems very modest compared to other baroque church buildings and lacks the blue tiles that seemed in vogue.
Heading for the River Douro
We continued exploring the winding back streets towards the Douro river. Passing some derelict buildings, I noticed graffiti or artwork that caught my eye.
Exploring alleyways further south towards the Douro River, we finally reached the edge. And what a magnificent view! We were high above the river on the northern side. The Luis 1 Bridge was visible to the far left, and riverboats were gliding along the Douro, visible below us over the tops of Sé do Porto (Porto Cathedral) and Igreja de Santa Clara. We wondered if we should take a trip on one of the many tourist boats, but decided that if we wanted to see this part of the Douro, we could come back on our own boat at another time.
Top L- Louis 1 Bridge,

Top Far L Se do Porto, Top Mid- Louis 1 Bridge

Traditional Boat on Douro River
Visit to Guimarães
One of the towns recommended to us as well worth a visit was Guimaraes, the birthplace of Portugal. The variety of national monuments and historic buildings found within the city demonstrate an extensive history. UNESCO declared this city a world heritage site in 2001.
The Castle of Guimarães is the principal medieval castle in the municipality Guimarães, in the northern region of Portugal. It was built in the 10th century, under the orders of Mumadona Dias. The purpose was to defend the monastery from attacks by Moors and Norsemen. Originally erected during the late Romanesque period, it established the first military fortification. Later, during the early Gothic period of Portuguese architecture, it was extended further. The total area is marked by walls forming a pentagram, similar to a shield. It includes eight rectangular towers, a military square, and a central keep.
Guimarães is the cradle of Portugal on two accounts. The first reason is that victory at The Battle of São Mamede in 1128, established Portugal as a separate state. The battle site is nearby. King Afonso Henriques, the first King of Portugal was born here and he lead the victory of this decisive battle.
So with that background, let's see what we found.
We set out catching a few trains. After a long walk from the station, the additional walk to the Guimarães Castle and the São Miguel do Castelo church was still too far by foot.
Campanhã platform

Campanhã roof

Campanhã building
Nossa Senhora da Consolação e dos Santos Passos
Closer to a beautiful garden display was the Baroque church of Our Lady of Consolation and the Holy Steps (Nossa Senhora da Consolação e dos Santos Passos). A small part of the front face is blue-tiled. The church bells pealed as we passed by, so I stopped a moment to enjoy their musicality.
Detail Azjuleos tiles
Nossa Senhora da Consolação e dos Santos Passos

Nossa Senhora da Consolação e dos Santos Passos.

Beauty in symmetry
Guimarães Judicial Tribunal
We passed the Guimarães Judicial Tribunal with the two statutes of women representing the personification of the law at the steps of the building. On the right, a bare-shouldered woman was steadfastly holding a thick book. The other statue was holding the sword of justice. Their vision is severe, as befits the seriousness with which they allegorize the might of the law.
©Wikiwand

©Wikiwand

My photo – Steps of the Judicial Tribunal Building
A lone statue of Condessa Mumadona Dias stands at the edge of the Judiciary plaza. She is an early countess and ruler of Portugal county. Credited with establishing a monastery, where she professed her own vows. Condessa Mumadona Dias ordered the building of the Guimarães Castle. Its purpose was to protect the monastery and the people from attack by Moors and Vikings.
Condessa Mumadona Dias at the judiciary

Detail ©CC-BY-SA 3.0
Dukes of Braganza Palace
The final stop was the Dukes of Braganza Palace, established by the bastard son of John the first- Alfonso, Count of Barcelos. Eventually, the title of Duke of Braganza title applied to the heir apparent and the lineage became legitimised. Over time, the Palace fell into disrepair after the 2nd Duke moved to another location. Now part of it serves as a museum of artifacts as well as real antiques. Education on the 16th and 17th Century tapestries, dinner sets and porcelains were not really our cup of tea. So we decided that was enough sightseeing for one day.
Dukes of Braganza Castle

Braganza side entrance

Braganza Wall
Monument to Gil Vicente
We stopped for a bite of lunch outside Deguste by Pedro Pinta. There is a sculpture there which borders the terrace, called "500 years of theatre". It comprises one screen displaying 8 different masks as a monument to Gil Vicente, a famous playwright born in Guimarães from the middle of the 15th century. A strange place to situate it, it formed a nice screen for the diners!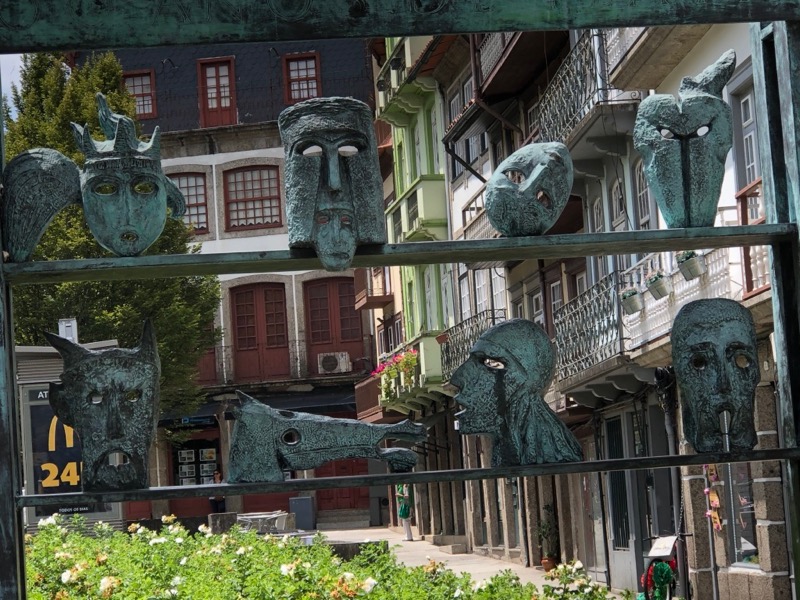 We returned via three changes in public transport to arrive back at Leixões late afternoon.
Wonderful Portuguese
After Gosia had left to return to Poland, it was very quiet on the boat. Soon after, we heard someone calling out to us from the pontoon. A young woman introduced herself. She had noticed the boat name and the Australian flag and thought it a chance to try to say hello.
Bárbara Luís is a young Portuguese winemaker. She recently returned from an internship in the Barossa Valley (South Australia) and was so excited to find us in Leixões. Bárbara explained that she was with her husband, who was renovating a mono SV Canopus, further up the pontoon and had noticed our boat.
We next met Raul who was also easy to talk with. They originally came from the Douro Valley and urged us to plan a visit to Pinhão. There, we could visit three different wineries that they recommended.
Upper Douro Valley Wineries
Quinta do Bomfim is reputed to have very good port wines, including the only Douro producer to have made a Port in the 21st century that rated a perfect 100 points from Wine Spectator: Dow's 2007 Vintage Port.
Real Companhia Velha is the oldest Port winery (260 years).
Quinta de La Rosa is a single Quinta winery. Its plantings pass 11 microclimates as the vines rise from the Douro River up 450 meters. This offers variety using the one crop that winemakers can blend to make complex ports and red wine. Additionally, this winery offers accommodation, and also a restaurant.
To whet our appetites, Raul passed us a bottle of port he had made that was 40 years old. We were very happily surprised he trusted us with his precious bottle, which was very drinkable. Whether to continue to the bottom of the bottle crossed our minds. Decency won out and we returned the bottle still with more sippers remaining.
We had planned to move onto our next leg, so we would miss out on the Pinhão trip. However, the temptation was so good, we could imagine going some other time. Now we needed to move while the weather was good.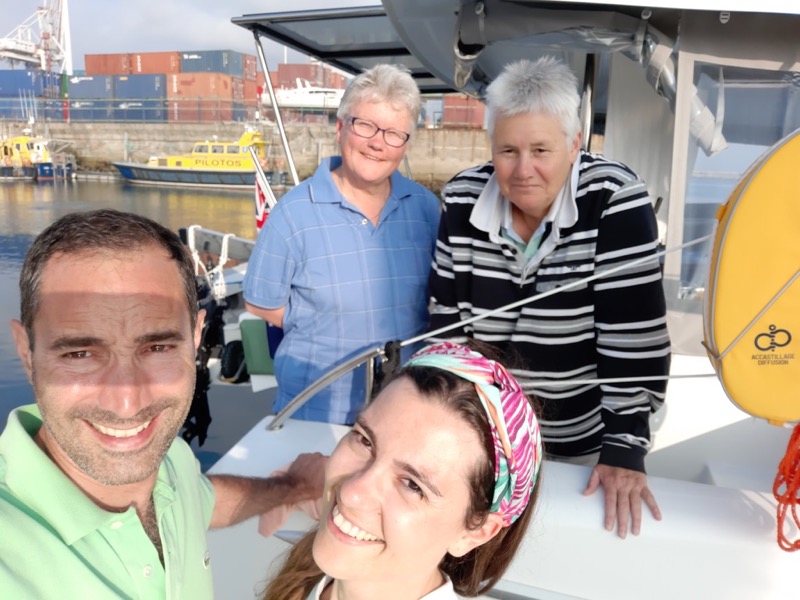 This couple was so generous with their time and recommendations, (including guidance on which trains to use to get to Pinhão, best places to eat and the 3 wineries). They sent us this photo after we had left. Part of the joys of traveling is meeting lovely people.
Shelley Beer 2 July 19 (edited by Jill de Vos)