Twas the night before Christmas and all through the house, not a creature was stirring, not even a mouse.
We were at my daughters in West Footscray, there was no one there except us, my daughter had taken her family to Penang to meet other family members for Christmas and my son had wiped us over a refusal to babysit issue months earlier! It did not seem like Christmas and it was a bit depressing.
Nod, from Multihull Solutions, had said our boat would be ready earlier so I suggested to Shelley that we leave sooner rather than later? We spent the next few hours rebooking flights and accommodation. Quite fortuitously I had only that day received an email from Airbnb advertising a 65% reduction in rates for an apartment in La Rochelle. I booked it and then realised we would be using quite a bit of our Schengen time in France which would not be ideal. I hatched a new plan, we would apply for a French 12 month long stay visa. A Visa De Long Sejour was just what we needed. . (This link is no longer offered since Covid 19 Pandemic 2020. The Visa service is closed).
The process involved a small plantation of trees and numerous trips to Officeworks to get yet another copy of something. Because it was December and the offseason, it was easy to make an appointment at the French Consulate in Sydney at a time to suit us. Keep in mind you have to time everything correctly like the police check arriving in time for the appointment. We knew we would be house sitting in Molong NSW so we could catch a train down to Sydney for the appointment. The Sydney French Consulate is the only consulate that holds interviews for the long stay visa.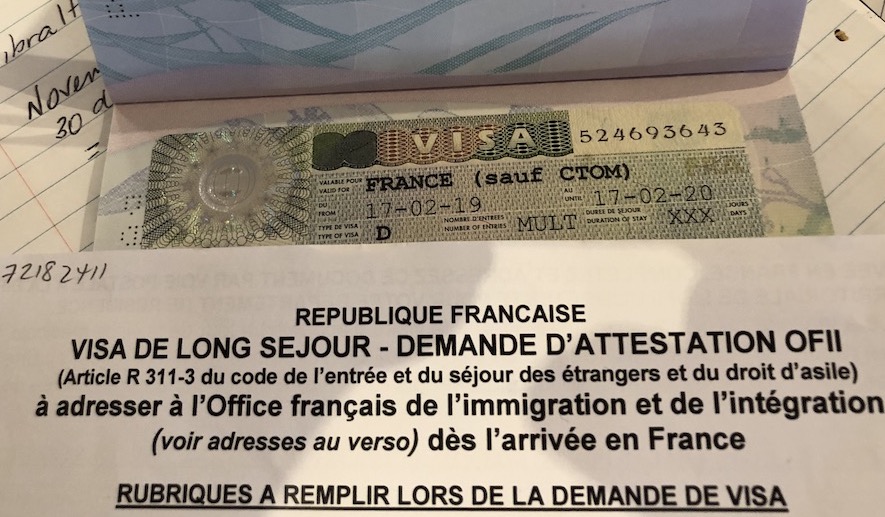 Our timeline was- Flights to Paris via Dubai 18th February 2019, apply for the long stay visa, book the interview for the 17th January at the French Consulate, hope our passports come back in time with or without the visa. The cost of applying for the visa was 90 Euros (if you get it or not).
You have the visa in your passport and an OFII form separately, we had no idea what to do with the OFII form! We tried to give it to the immigration official at the airport, she was uninterested. We rang the OFII office in Bordeaux where we got an email address for queries. Three attempts at emailing finally got us to the right place where we were able to translate the answer and head to the right website.
I am now writing this from our apartment in La Rochelle after just having worked out that we have to validate our visas within 5 weeks, this can be done online and cost us 250 Euros each for tax…We have been advised by email that we have to attend an appointment. As yet we have heard nothing so we will just be patient.
Do not for a minute believe that this is easy! We spent 3 hours on the computer, it was quick to fill in the application and pay but you then get 3 emails which you translate that direct you to another website to log in, I have yet to log in as it will not accept the log-in details in the email and is now saying the site is down please try again later.
Time for a break and we are off to the market for some fresh produce!
La Rochelle central market

Typical queue for desirable goods